Australians these days are becoming more and more health-conscious; as such, more and more gyms have been popping up to meet the demand.
So what can you do with your gym to stand out from the evergrowing masses?
TAKE NOTE!
Gyms have continuously catered to people who gave effort in sustaining a healthy lifestyle. 
While it evolved with machines that targeted different muscle groups, it eventually added dance studios and boxing rings to maximize its capacity for encouraging physical strength and sustainability of optimum wellness.
Our bodies, when it gets used to doing the same sets of exercises, eventually doesn't burn that many calories because of our muscle's ability to adapt. 
They adjust their size, muscle mass, and elasticity according to the work you make it do. When it reaches the strength appropriate to the particular task, then it stops improving its performance. 
This is where gyms come in by bringing new and more challenging tasks to push the body further. As a gym owner, that is your priority.
GOOD MORNING YOGA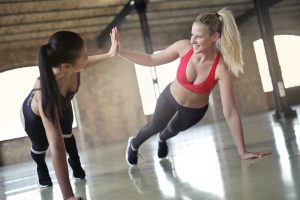 One benefit of going to the gym are the mindset around creating good habits. When you wake up to an early session of Yoga in your studio, it keeps you alive and flowing with good energy. 
What better to start with than a fulfilling yoga session early in the morning?
When you start something early in the morning, you finish something early too. It gives you a sense of self-achievement and instantly boosts your self-confidence. 
Also, starting your day early means you'd hit the sack earlier too; giving you a full night's sleep and allowing your body to recuperate efficiently. 
The body's natural circadian rhythm is set within the mind, in which researchers showed that sleeping early helps you to avoid binge-eating at night even when you're not hungry. 
That means that the extra calories you pack with midnight snacks now get burned instead of stored. Eliminate that bad habit and replace it with morning yoga. 
PILOXING
Combine the flexibility you would gain from Pilates to the muscle strength from boxing. Stimulating both mental and physical health, piloxing develops the maximum potential of one's body. 
Pilates lengthens your muscles to prevent them from getting stiff, and to increase range of motion. It helps you gain balance, good posture and flexibility. 
On the other hand, boxing, being all about speed and explosiveness, develops the muscles while you explode your punches quickly.
All in all, both of these full-body workouts keep your heart pumping, make your adrenaline running and drives you to rediscover your own body.
ZUMBA FITNESS CAMP
It's always good to join a session of Zumba. Could it be because of an entertaining instructor? Could it be the music? Or maybe the choreography that allows swaying of the hips, self-expression with some daring moves and the lively noise it creates. 
Zumba keeps gym-goers alive. It can come across through a low-impact module, advisable to those who may have an injury and the ones that prefer it, up to high-impact which includes a little bit of kickboxing, ballroom, and batucada—depending on how versatile your instructor is.
In general, Zumba is a combination of both low and high-intensity intervals structuring your core into how aerobics does the work. Enjoy increased flexibility, fun social immersion and a good sweat after an hour of this.
KANGOO JUMPING
Kangoo jump is a product of 20 years of research for a safe mobile rebound exercise. Founded in 1994, Denis Naville, a Swiss entrepreneur, initially wanted this made to aid leg-injured people as they go back to exercising.
Using the Kangoo jump shoes relieves your knees with light impact from the floor with the aid of the springs that make up its unique soles. Its mechanism is weirdly effective that it eventually transitioned into Kangoo Jumps fitness programs.
People will find this program innovative, fun and fresh because of the unique pair of shoe. The good news is, it's not just for jumping. You can use it for jogging, CrossFit, aerobic training — all with a rehabilitative effect.
Kangoo jumping helps develop one's endurance when you exert the right amount of energy in finishing a session. 
Gauge yourself when doing these physical exercises. It's always the right choice to pay attention to your health. Listen to your body when it calls for rest. And nurture your body correctly with the right amount of calories as you recuperate.